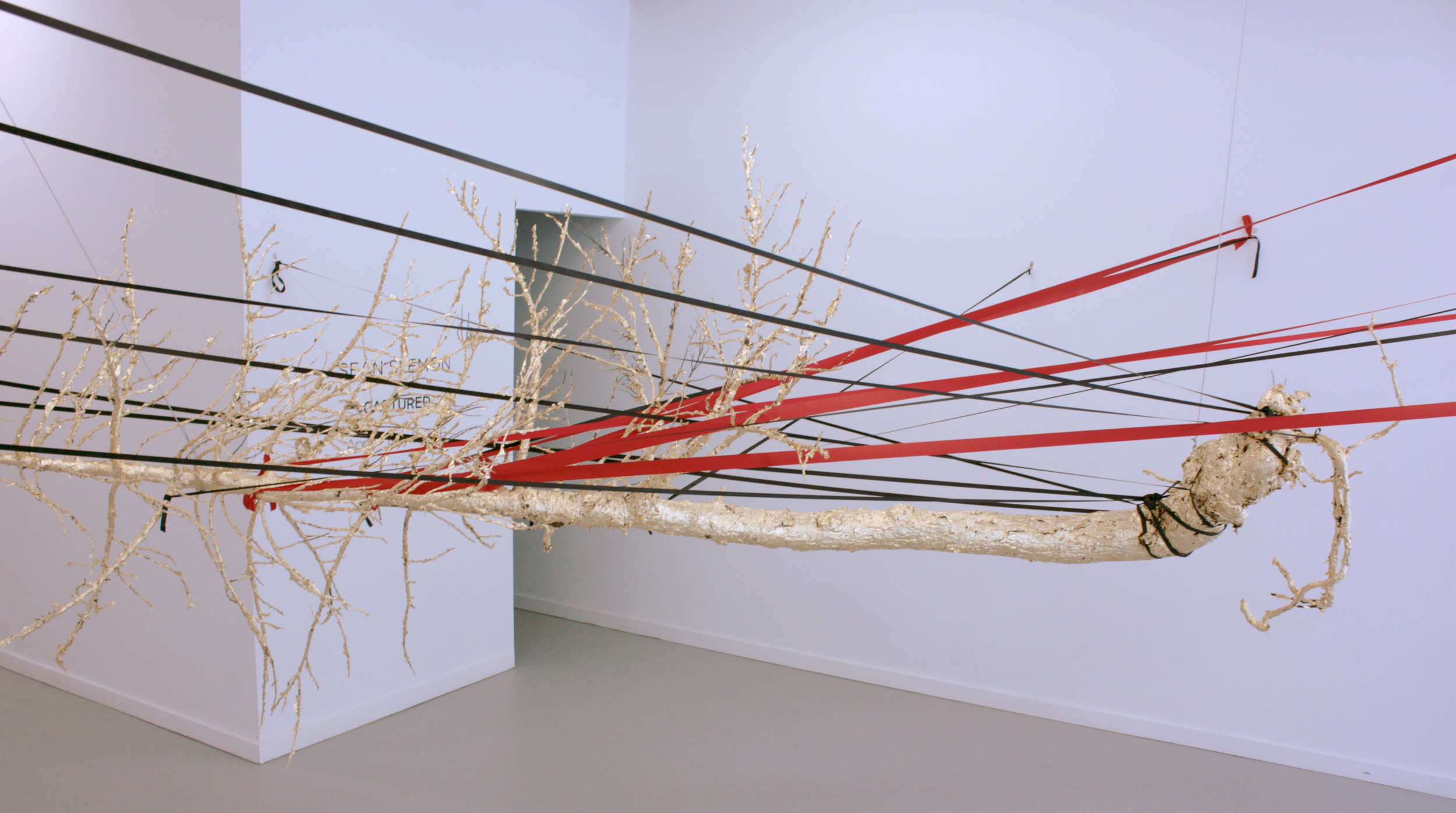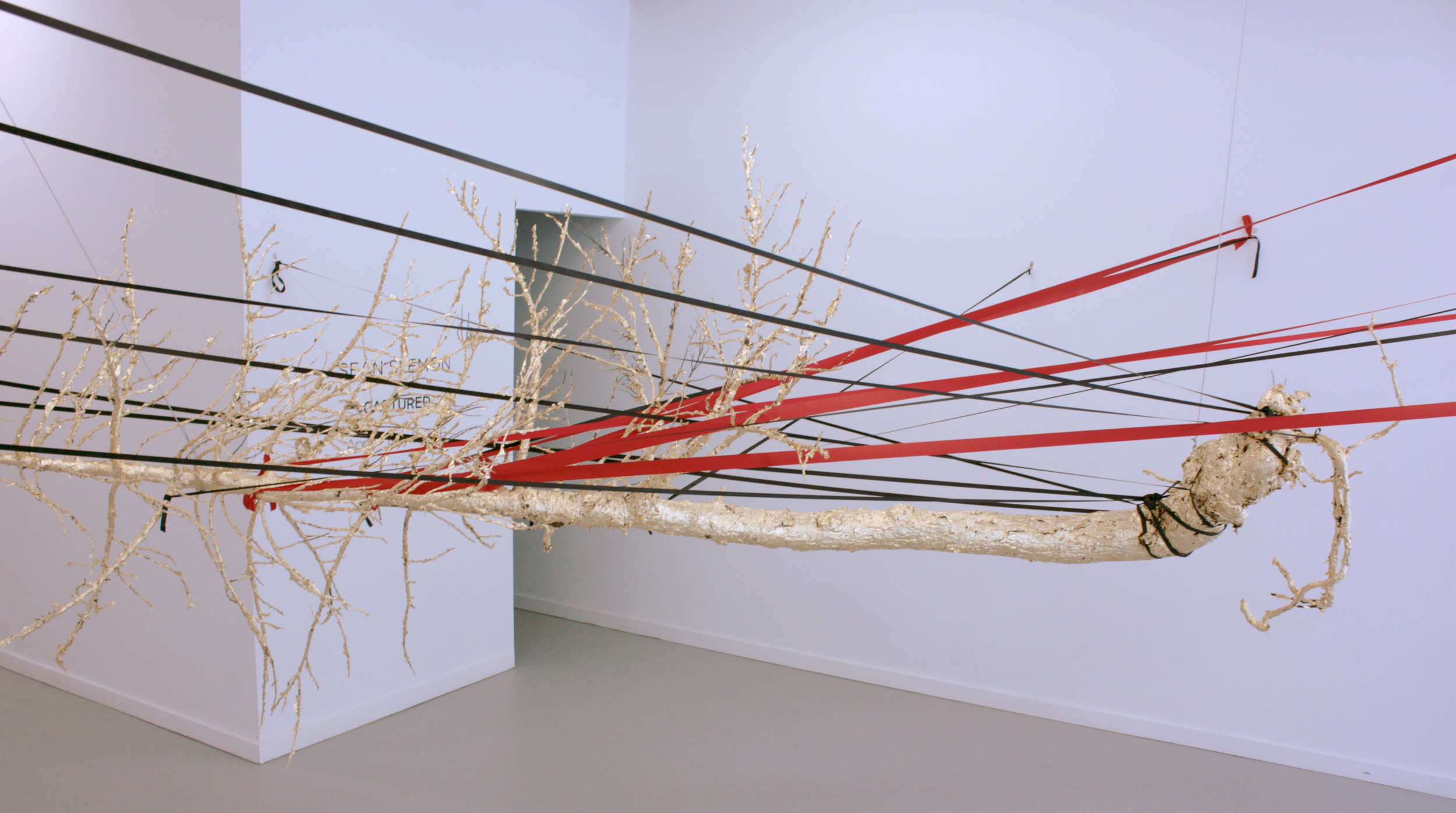 In The Black/ In The Red: A Balancing Act of Value
Indigenous local dead Pine Tree
Gold Leaf
Red and Black Satin ribbon
Site Specific Installation
180" X 72" X 72"
457cm X 182cm X 182cm
2016
PRESS RELEASE:
SEÁN SLEMON, CAPTURED, APR 7 - MAY 08, 2016
ARTIST RECEPTION: THURSDAY, APRIL 7th - 6-8 pm
Mariane Ibrahim Gallery is delighted to present, Captured, the first solo exhibition dedicated to mixed-media artist and sculptor, Seán Slemon opening April 7 2016 and running until May 08, 2016, with an opening reception on Thursday, April 07 from 6 - 8pm.
'Captured' comprises of three works created over a period of five years. Each work departs from an origination point synonymous with the core of Slemon's practice: making the intangible solid and physical. Each piece in the show breaks that principle down even further by exploring the themes of nature and its relationship to humans, the ability to revert objects to their original, natural form and meditations on light and how it can be manipulated.
His examination of how land, light and street trees are co-opted to create advantage or discriminate underscores the active and passive decisions we make as a society. The result is an intense interrogation of public versus private property, ownership, and the impact this distribution can have on people's lives.
First presented in Johannesburg, the main site-specific installation, "In the red/ in the black" emulates notions of redemption and resuscitation of a once living tree, now dead, ornamented with gold leaf. Slemon draws links between the natural and material conditions, man's eradication of our natural environment, and man as the master-mind of his own destruction. The gilded and suspended tree resembles man made religious statues: suggestive of man's ability to sanctify rather than destroy.
Slemon's practice is an ongoing exercise in bringing to the fore the socio-political aspects of his body of work through an examination of equal access to natural resources and what that means for different countries and cultures.
Seán Slemon (b. 1978, Cape Town) is a South African living and working in Brooklyn, New York since 2005. He is recognized for addressing socio-political issues pertaining to the commoditization and distribution of natural resources. Slemon's work has been shown in the U.S., Europe and South Africa. Major site specific installations include Uplift: The Mountain (2008) at the Palazzo delle Papesse in Siena, and The Light at 7:00 am (2009) for No Longer Empty's Reflecting Transformation show in Chelsea, NY. In 2014 Slemon completed a commission for First National Bank; a series of five public sculptures for their Johannesburg Bank City precinct. His most recent public art featured in the exhibition Winter 2015 at the Nirox Sculpture Park, curated by Benji Liebman and Mary-Jane Darroll.
In The Black/ In The Red: A Balancing Act of Value
Indigenous local dead Pine Tree
Gold Leaf
Red and Black Satin ribbon
Site Specific Installation
180" X 72" X 72"
457cm X 182cm X 182cm
2016
In The Black/ In The Red: A Balancing Act of Value
Indigenous local dead Pine Tree
Gold Leaf
Red and Black Satin ribbon
Site Specific Installation
180" X 72" X 72"
457cm X 182cm X 182cm
2016
Pine Tree, 2011
Foreground:
Pine 2x4's, gold leaf, ribbon
36 x 90 x 36 inches
91.4 x 228.6 x 91.4 cm
Background:
First light, SecondLight, Thirdlight, 2012
Soap ground aquatint
18.9 x 14.17 inches
Edition of 12 +1 AP
(48 x 36 cm)
Pine Tree, 2011
Pine 2x4's, gold leaf, ribbon
36 x 90 x 36 inches
91.4 x 228.6 x 91.4 cm
Light, 2016
Wall Mounted Laser cut stainless steel
63 x 47-1/4 inches
160 x 120 cm
Edition of 5 + 1 AP
Light, 2016
Wall Mounted Laser cut stainless steel
63 x 47-1/4 inches
160 x 120 cm
Edition of 5 + 1 AP
Light, 2016
Wall Mounted Laser cut stainless steel
63 x 47-1/4 inches
160 x 120 cm
Edition of 5 + 1 AP
Pine Tree, 2011 / Light, 2016
Pine 2x4's, gold leaf
36 x 90 x 36 inches
91.4 x 228.6 x 91.4 cm
Pine Tree, 2011
Pine 2x4's, gold leaf,
36 x 90 x 36 inches
91.4 x 228.6 x 91.4 cm
Firstlight, Secondlight, Thirdlight, 2012
Soap ground aquatint
18.9 x 14.17 inches
48 x 36 cm
Edition of 12 + 1 AP